Discover more from Folklore, Food and Fairytales
Snippets of folklore, history, stories, vintage recipes, remedies, herblore & the occasional cocktail
From The Borrowing Days to Poor Knights of Windsor
Via Carlin Sunday, Gray Pays, Liber Cure Cocorum and Red Wine & Roses
Dearest Gentle Reader,
I hope that this letter finds you and yours in good spirits in this short time between Care or Carlin Sunday and The Borrowing Days.  I suppose you'd like an explanation, I know I would if people presented me with such impenetrable yet intriguing day descriptions.
I think we will start back to front for reasons to be revealed.  The Borrowing Days or the Borrowed Days are the last three days of March (generally speaking, although there are some exceptions).  They are usually full of horrid weather in these islands, particularly blustery and rainy.  It was said that March borrowed 3 days of April in order to try and murder some sheep but was unsuccessful as the sheep managed to find their way home.  There was even a poem from Scotland: 
"March said to Aperill,/ I see three hoggs upon a hill,
And if you'll lend me dayes three,/ I'll find a way to make them dee.
The first o' them was wind and weet,/ The second o' them was snaw and sleet,
The third o' them was sich a freeze,/ It froze the birds' nebs to the trees:
When the three days were past and gave,/ The three silly hoggs came hirpling hame."
In Ireland, an elderly cow was involved who insisted that March could not kill her off, sadly she was wrong and the terrible weather of the Borrowed Days was her nemesis.  In Northern Ireland, there were 9 Borrowed Days, in order for March to get revenge on a blackbird, a stone chatter and a grey cow for their insolence.  
There is even a poem from Staffordshire but sadly no livestock story to support it: "March borrowed of April, Three days, they say; One rained, the other snowed, And the other was the worst day that ever blowed"  If you want further livestock tales of these days, there is a Spanish story where a shepherd asks March for mild days in order to protect the newborn lambs in exchange for one lamb.  When March had delivered the mild days, the shepherd reneged on his bargain and no lamb was handed over.  March borrowed three days from April full of even stronger winds to punish the shepherd for his duplicity.
Many considered these to be adequate enough reasons for the grisly weather. Others, like Shelley, instead made heartfelt comments such as 'March with grief doth howl and rave' from his Dirge of the Year. No-one however, could escape the general suggestion of ill-omen and this was not a time for new ventures or risking money but a time for retreating to the home fires as winter paid a short return visit.  There was even a horrific storm on the East Coast of Scotland in 1625, known thereafter as the 'Storm of the Borrowing Days'. The Domestic Annals of Scotland described it as a  "storm of extraordinary violence, the like of this tempest was not seen in our time, nor the like of it heard in this country in any age preceding" 
Let's hope that our Borrowing Days only amount to a bluster not the roars of lion or a full return to Winter.  
We must now look back to Care or Carlin Sunday, the fifth Sunday in Lent also known as Passion Sunday.  Care or Carlin Sunday has an interesting etymology: some people believe that the name comes from the tradition of eating Carlin peas in the North East and Lancashire on this day.  This tradition seems to have many sources but in Newcastle in particular it apparently dates back to 1644 and the Civil War when Newcastle was cut off from its food supplies by the Scots.  Salvation appeared in the form of a ship containing a cargo of Carlin peas which managed to dock, thus saving the population of Tyneside from starving. This was celebrated by the eating of slow cooked Carlin peas doused in plenty of malt vinegar or simply lots salt and pepper on this day.  The tradition seems to stretch down as far as the Humber and across as far as Blackpool with a different origin tale for every town. 19th Century newspapers often printed advertising reminders to get your Carlins in for Carlin Sunday (sometimes spelled Carling), it was a definite food tradition.
Whatever or wherever the tradition originally comes from is clearly open to interpretation but eating pulses and lentils during Lent is a very old tradition in its own right. The name Carling Sunday does seem to have been influenced by the food but was still derived from Care Sunday which is in all likelihood nothing to do with eating at all but has more to do with the sadness of devout Christians in this week as Good Friday approached.  The name Care is almost certainly derived from the Germanic Kar as it also applied to other days in the lead up to Easter: Care Friday, Care Week as well as Care Sunday.  This origin word had more to do with the sorrow and grief of mourning which particularly appropriate for those who grieved for the events of Good Friday. Steve Round in the English Year is particularly keen on this interpretation and he certainly convinced me. He doesn't mention the legend of the Carlin peas in connection with this at all sadly. 
I am particularly attached to the idea of a celebration of Carlin peas as they are key ingredients for one of the traditional dishes of my local area known as 'Gray Pays and Baercun' (spelled phonetically as everyone uses the traditional pronunciation).  The Black Country was once a heavily industrial area populated by miners, foundry men, nail makers, metal workers and glass makers. Black dust covered the ground from spoil heaps of coal and the day was full of black smoke which belched out constantly from chimneys.  When night fell, forge fires & sparks and the glow of molten metal lit the sky. An American diplomat described it as 'black by day, red by night', still remembered now in the colours of the Black Country flag. 
The food of the area, which is loosely geographically defined by a coal seam with the now city of Wolverhampton tagged on the end, was meant to feed physically hard working men, women and their families on a budget which was usually too low for their needs. This meant a lot of pulses and a reasonable amount of offal was involved.  Gray Pays and Bacon is definitely in this tradition and is made from Carlin peas and bacon with a bit of bicarb, some seasoning and if you are lucky, some onion.  It was served often for free in pubs on Shrove Tuesday and is also now served on Bonfire Night. 
This is what I would loosely call the recipe in imperial measures, I'm happy to convert for anyone who asks:  8oz grey peas (before soaking), 4oz bacon bits, 1 tsp bicarbonate of soda, seasoning to taste.
Put the carlin peas in a large bowl, add a teaspoon of bicarbonate of soda and 
and fill the bowl full with cold water. Leave overnight. Drain and rinse the peas and put in a large, heavy bottomed pan, add the bacon, cover with water and cook slowly, topping up as you go.  Cook down until the cooking liquor forms its own sauce and the peas are starting to break down a little and become very soft which should take a minimum of 2 hours. Adjust the seasoning to taste. You can add a stock cube to the water at the beginning and a chopped onion.  You can even add caramelised onions at the end.  You could save yourself a lot of time with a pressure cooker or an instant pot but however you achieve it, serve up the warm savouriness of a very old frugal  dish with some good bread. Obviously I appreciate that the northern version is much easier to make vegetarian/vegan but if you do eat meat this is an excellent way of making just a small amount do a lot of flavour based work.
I know the people of the North of England claim eating carlins as their tradition and sadly the Black Country lacks the folklore to support their claim but I would like to draw your attention to a recipe for grey peas and bacon below from Liber Cure Cocorum in 1490 and ask you whether it bears any familiarity to the recipe above? I'll leave it up to you Gentle Reader to form your own mind.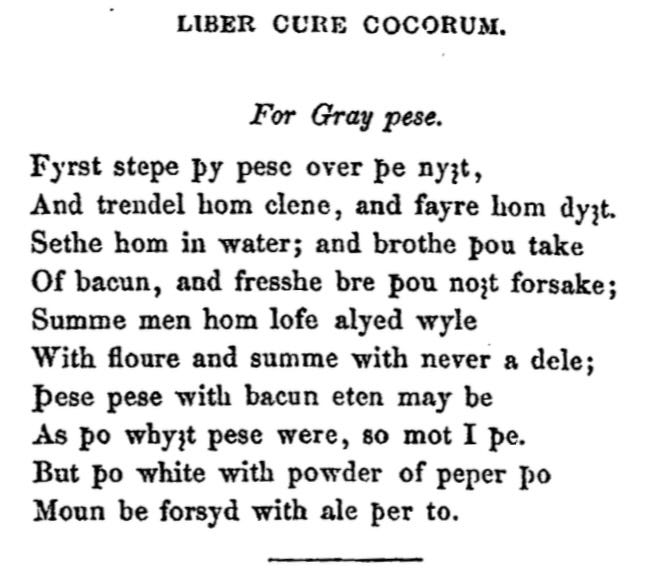 The recipe this comes from Liber Cure Cocorum, an English cookbook dating from the year 1430 and originated from Lancashire. Strangely for a cookbook, the recipes were  written in rhyming verse.
It was first printed from a transcript made by Richard Morris in 1862 from a text in the Sloane Manuscript Collection (No.1986, British Library). It is written in a northern English dialect of the 15th century, probably not much earlier than the time of Henry VI. 
After all of our dalliance with folklore and pulses, we have no separate tale today but we do have the traditional vintage recipe and remedy for a sense of familiarity.
Our remedy is for strain. I'm assuming of a joint or limb from the description.  If the strain is less physical, perhaps from a long day, maybe you can skip the heating up with roses and the cloth and just have a small glass of claret instead. This totally unproven and doubtless messy remedy (the one with the roses & cloth not my more practical suggestion) is at least harmless unless it's to your upholstery but if you are actually looking for a home remedy  maybe you should check out your symptoms somewhere more medically qualified just in case.
Our recipe is just gorgeous but simple: Poor Knights of Windsor, and we have two versions, one boozy, one spiced: basically just indulgent versions of eggy bread. The name comes from group of knights established by Edward III in the 14th century to help its financially embarrassed members, who had lost their wealth due to being held ransom after the Battle of Creçy. They were housed at Windsor castle and prayed for the King & ran his more elegant errands in exchange. They had to remain poor to keep their place at Windsor; as if they grew too wealthy again they lost their place in the order. The older spiced recipe is from The Compleat Cook' by 'WM', from 1662, the boozier one is from A New Method of Cookery by Elizabeth Cleland in 1755.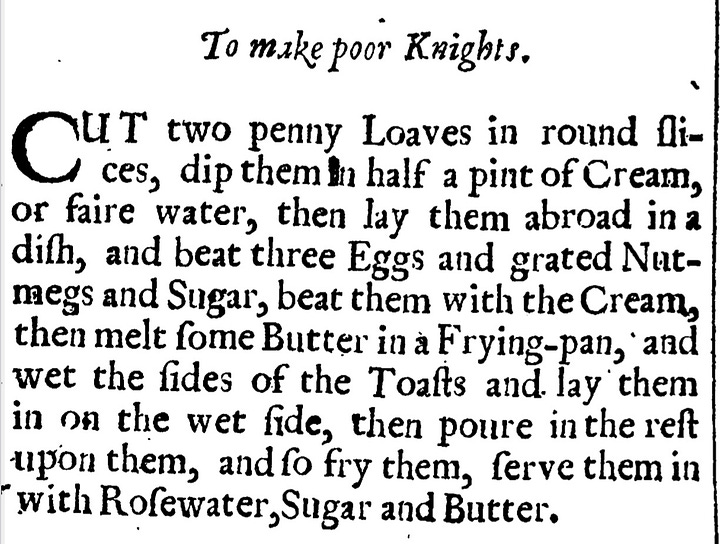 So with that, Gentle Reader, I must bring this letter to a close. Please don't hesitate to get in touch via the comments or via any of my social media profiles/my website . If you have enjoyed this and would like to read further such nonsense and have not yet subscribed, please don't hesitate to subscribe for free at the button below. You'd be very welcome and it would be a joy to write to you.