Discover more from Folklore, Food and Fairytales
Snippets of folklore, history, stories, vintage recipes, remedies, herblore & the occasional cocktail
From Recommendations to Recipes
Via Greek Myths, Wild Britain, 19th Century Poet turned Cook and Podcasts
Dearest Gentle Reader
It's wonderful to be back with you but I must confess that I don't have a normal one of my letters for you. I am working on something interesting and have been absolutely swamped. However, I don't like to not send you my usual letter so I am trying a small experiment by sharing with you three of my favourite books, podcasts and recipes involving an element of folklore, food or fairytales; in case you too would like to find more exciting things to read/listen to or eat. 
I have to assume that since you receive my letter, you must have at least a passing interest in this type of thing so hopefully it will be relevant.  If you are not so keen on this type of letter, I will be back next week with my usual nonsense.  You can step away without a backward look, take back your time and do something else just for you.
Shall we start with books? I think in this instance we can use fairytales to cover all sorts of stories including myths: 
My first one is Pandora's Jar by Natalie Haynes. This is a fabulous book, I didn't think I would enjoy it as much as I did.  When I was young I was fascinated by Greek myths and legends. As an adult, I am equally enchanted by the Goddesses Hestia and Hecate. However, much as I enjoyed Stephen Fry's versions of Gods and Heroes, I have long felt something was missing and I think it was the women's voices.  Pandora's Jar tells the stories of Greek mythological women from all walks of life: from semi-divine women like Helen of Troy, Medea, and the glorious Amazon warriors; to wronged mortals like Jocasta and Clytemnestra; to women-turned-monsters like Medusa and it does it in style.  The book is beautifully written, witty and fun.  It also contains some anger and has a wonderfully subversive style. These women might not be nice (and often aren't) but at least we should hear their stories. 
My second is Wild by Amy Jeffs. I fell in love with her book Storyland which is a new illustrated mythology of Britain, set in its wildest landscapes and when I saw she had another book out, I couldn't resist. The book evokes an atmospheric world of whales, wild seas, wolves, caves and cuckoos which is irresistible. Amy travels on foot and through medieval texts to offer an insight into a world which is both so far and so distant.  She hauntingly retells medieval tales, one at the beginning of each chapter, giving them life and the places where she finds them reflected in Britain today, from the bat-haunted darkness of ancient barrows to a pub wassail, accompanied by her original wood engravings. In the audiobook, which I listened to the book is enhanced by magical folk songs instead as the engravings are obviously not audible! The book is all about moving from desperation to hope through these explorations, something we all need right now.
My third (because all the best things come in threes) is a food history fiction book is The Language of Food by Annabelle Abbs which is a historical fiction book based on the life of the famous 19th century cook & poet Eliza Acton or more likely what little is known of her, combined with everything we know from her excellent cookbook. This novel is full of food descriptions that flow like poetry intertwined with the story of friendship that builds between Eliza and her assistant Ann.
"Fruits, herbs, spices, eggs, cream: these are my words and I must combine them in such a way they produce something to delight the palate. Exactly as a poem should fall upon the ears of its readers, charming or moving them"
Eliza may have started writing the book because she needed the money but it becomes so much more than that. She wants to educate and inform so that she can make food pleasurable & simple for all regardless of class. I can't recommend it enough. Even if you haven't heard of her you may have read some of her recipes as over half of them made their way in Mrs Beeton (without credit).
I love podcasts, I really do. Radio has always been my comfort and company and now we have essentially radio about so many more cool things because there are less barriers.  I have a list of excellent ones that I would happily share but I think I will follow the theme of the books above and share two folklore podcasts and one food history one.  
My first is The Folklore Podcast by Mark Norman - Folklore: Beliefs, traditions & culture of the people. Traditional folklore themes from around the world. One episode each month features a special guest from the field of folklore. Recalling our forgotten history, recording the new. So many great episodes about so many fascinating things plus they now have the the Folklore Library and Archive (of which I am a volunteer for the sake of transparency) which is helping to save so many things which may be lost.
My second is Fabulous Folklore with Icy.  The podcast will give you your weekly fix of fabulous folklore in fifteen minutes (or less)! Hosted by fantasy and Gothic horror writer, Icy Sedgwick, the podcast explores folklore, legends, superstitions, mythology, and all things weird, occult and unusual. I love this and often save episodes so I can binge them. Icy really is fabulous. 
My third is the Delicious Legacy Podcast - Imagine yourself dining with Socrates, Plato, or Pythagoras... maybe even Cicero and Julius Caesar...or try and picture the richness of fruits and vegetables in the lush Hanging Gardens of Babylon. How did all begin? What did they eat? Travel through time and imagine what it was like to eat like a Greek Philosopher in a symposium in Athens, as a Roman Emperor or as a rich merchant in the last night in Pompeii. Lavish dinners, exotic ingredients, barbaric elements, all intertwined...all of this is available from this wonderful podcast.
My last three are all recipes and all are available free online. I have added photos of my versions for a reality check:
First is a complete taste of Spring from the divine Diana Henry in the form of eggs, asparagus, broad beans & radishes with saffron mayonnaise. I added jersey royals & some poached salmon & it was heaven. The sort of salad that makes you question why you don't eat more food like this and make a lot of salad based plans for the future.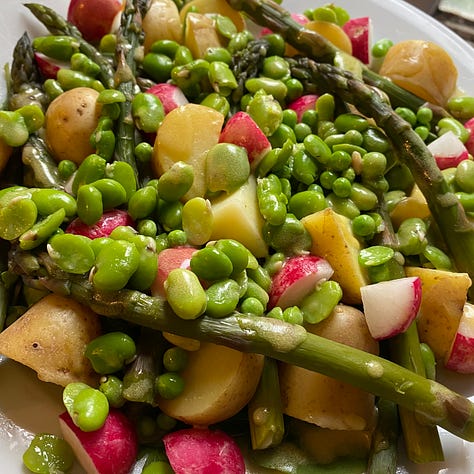 My second is probably more how your future will look in reality and I will need you to trust me that this weird way of cooking leads to a really good & extremely satisfying 3 Ingredient Mac & Cheese. I use mature cheddar & more evaporated milk than they suggest. I also don't add any salt to the cooking macaroni or it's too salty. Now I still love a properly rich, oven baked, roasted chilli sweet potato stuffed, pancetta & herb & buttery breadcrumb topped Macaroni Cheese but you can't make that in 10 minutes when you are exhausted but still need comfort.
My third is Broccoli Melts from the excellent Deb Perlman of Smitten Kitchen. I have a ridiculous love for broccoli but this has garlic, chilli & cheese ( and in my case anchovies) so it will always be a winner for me. I use cheddar instead of provolone and use the olive oil from a tin of anchovies instead of olive oil and add in all the anchovies to melt when the garlic & chilli are frying but this is delicious even if you stick to the recipe. It's another perfect, fast post-work dinner, particularly good in front of the television. I also use any leftover broccoli rubble to make a pasta sauce on another night with that delicious chewy, wholewheat pasta that looks like little radiators, some pasta water and fluffy cloud of Parmesan grated on top.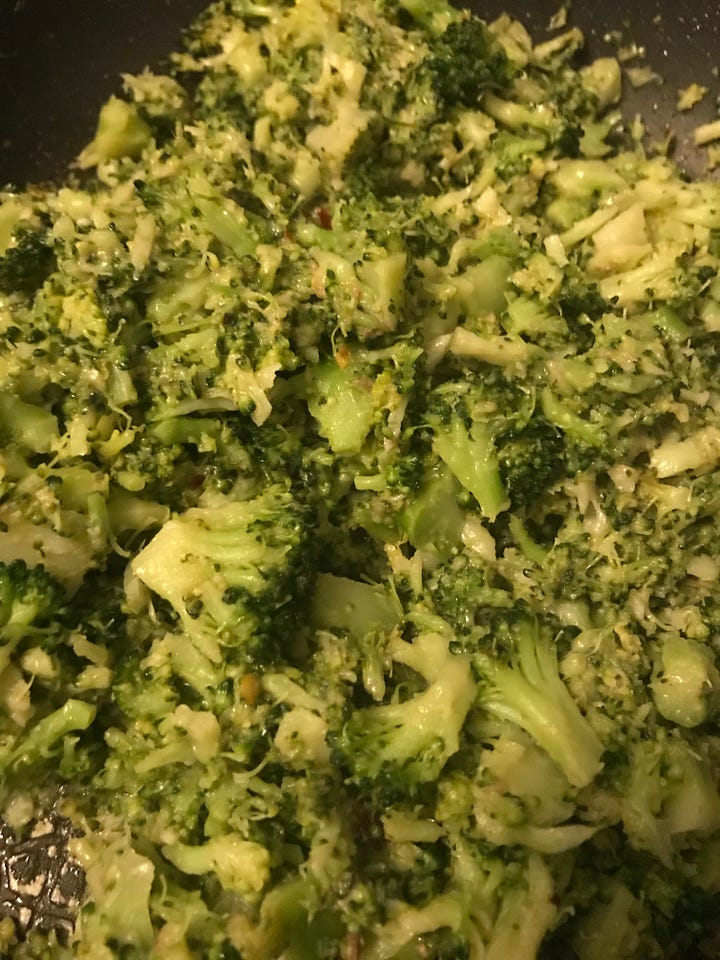 So that is that, l hope you enjoyed this little excursion off our normal path. Please feel free to tell me what you think in the comments so I know whether to do another letter like this in the future or please just share your favourites too. We will return to normal service next week.
So with that, Gentle Reader, I must bring this letter to a close. Please don't hesitate to get in touch via the comments or via any of my social media profiles/my website. If you have enjoyed this and would like to read my normal nonsense and have not yet subscribed, please don't hesitate to subscribe for free at the button below. You'd be very welcome and it would be a joy to write to you.