Discover more from Folklore, Food and Fairytales
Snippets of folklore, history, stories, vintage recipes, remedies, herblore & the occasional cocktail
From Prosciutto e Melone to A Westminster Fool
Via 90's Recipes, Kindness, Selkies and Dr Bartlet's Medicine for Aches
Hello Dearest Reader,
I hope is all is well with you and yours since last I wrote. I feel the need to share with you my slight recent obsession with 90's food and I don't mean all those nostalgic round ups of snacks you ate as a child.  I was a teenager for most of the 90s but I don't remember those snacks really except for a strange odyssey into the world of the pop tart which we discovered was reminiscent of the texture of a hot fig roll, and so not worth the money when you could have a fig roll, which was much nicer all round and a quarter of the price.  Fig rolls are tricky to find now but to anyone under 40 they are a soft outer biscuit around a dried fig paste. I think they may have a different name in America.
I mean actual dishes and recipes of the nineties, this was inspired by a gorgeous picture on Instagram of prosciutto e melone from Cafe Murano which made me remember how much I enjoyed it but it was, in this country at least, a food fad of the 90s which you don't see that often anymore.  Possibly, because if made too far in advance or with underripe melon it is not very pleasant, a fact that was often ignored by wedding caterers.  When made with gloriously salty-sweet aged prosciutto and sweet, fragrant melon it is a thing of joy and wonder. Melons are lovely at the moment so I was inspired to go out and buy both prosciutto and melon (honeydew in my case) and eat accompanied by a glass of pink sparkly whilst fending off the cat who apparently shares my love for prosciutto. It was incredible and I'm going to make a habit of eating it when the melons are fragrant.
In Italy where this dish comes from, it is not a fad but there is some dispute about quite how old it is. Some suggest that a Roman Physician know as Galen who believed in a 'balance of opposites' where food was concerned: the body needed to maintain a balance between the four elements: water, air, earth, and fire to ensure good health. Cold and moist foods which people enjoyed in the summer needed to be balanced by hot and dry foods.  Melon was considered a moist, cold food and prosciutto was hot and dry and linked to fire so it would be a perfect combination.  However, no-one actually wrote down this particular combination.
Prosciutto as we would recognise it today is not the salt cured ham of the Romans (although it is a descendant) and really dates from the 15th century when consistency became more normal as butcher's guilds were recognised and started to set standards for producers in the Emilia-Romagna region of what is now Italy.  So it is unlikely that particular combination was snacked on by Galen but in 1891, Pellegrino Artusi, a famous Italian gastronome, suggested this very combo as a starter for the August menu in his essay - Science in the Kitchen and the Art of Good Food. He said that it should be served with a generous amount of wine because, as the saying goes, "quando Sol est in leone, Bonum vinum cum popone" ("when the sun is in Leo, drink good wine with melon" – popone in Tuscan dialect).
Any way back to food fads, this rediscovery of a fantastic simple dish has made me revisit dishes of the nineties (the start of decade is alarmingly over 30 years ago) when I first started cooking. I had to limit my selection of 90s cookbooks otherwise you wouldn't be reading this now, so I chose Nigella - How to Eat, Nigel - Marie Claire Cookbook and Delia's Summer & Winter collection.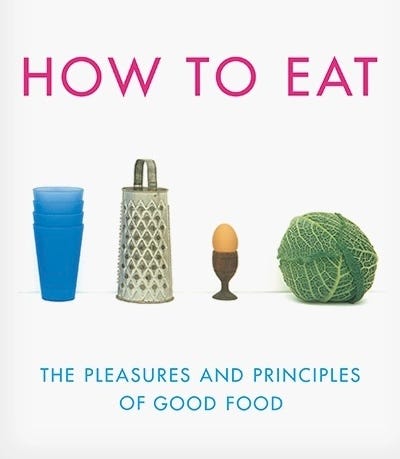 I have many times defended my large collection of cookbooks, it it wasn't for ebooks it would be even huger but today I feel fully justified for two reasons.  Firstly younger me had excellent taste in cookbooks, hence owning these classics. Secondly, whilst the internet might be an excellent place to quickly look for a quick recipe, it is rubbish to get the feel of recipes of a specific period of time & place, especially a time when the internet was in its infancy and isn't the US.
Re-reading these books was a joy and I was surprised that I still cook recipes from all four of these cookbooks but I've been cooking them for so long, I'd forgotten the source. I was also surprised by how many of the recipes I still want to cook.  I chose these books because they were Nigel and Nigella's first cookbooks and the Summer and Winter collection from Delia just because they were iconic at the time. The nineties were big on mediterranean style recipes, highlighting good seasonal British dishes with gentle steps towards middle-eastern grains like bulgar and couscous. There were also Thai influences with recipes like Thai fish cakes and Thai red curry and noodle dishes becoming more popular.
Now either the nineties fads were particularly good ones or these writers are just timeless because many of these recipes wouldn't look unusual if you served them up now although the ingredients are a lot easier to get even in discount rather than upmarket supermarkets.  Although I love these notes on ingredients from Delia's books.
Do you want to know what I still cook? From Nigel: Pissaladiere and Pizza topped with caramelised onions, anchovies, olives and capers. From Nigella: Kale, Chorizo & poached egg and Lemon Linguine. From Delia: Roast Vegetable Couscous & Feta with Harissa style dressing, Warm Potato Salad with Lemon & Chive vVnaigrette and Oven Baked Wild Mushroom Risotto. I must admit that over time I have adapted them completely to my taste but the bones of the recipes were so good, they can take that sort of behaviour.
What have I learned from this? Firstly cookbooks are an invaluable source of social history which I knew already.  Secondly, that Delia, Nigella and Nigel all write a cracking timeless recipe, which I also knew already. One thing though that it has properly brought home is what an amazing time it was to start cooking in the UK.  There were so many great cookery writers and much better access to interesting ingredients even if you need to pop occasionally to the nearest big city. 
I had a great base from learning from my Mum and Nan as well as Delia and Madhur Jaffrey whose books were in the house. Then I stepped out into this multicoloured world of flavours that had been around forever but were just becoming really popular here. I also had a future to look forward to of all the amazing cookery writing of Nigel and Nigella as well as the rest of my favourite writers like Diana Henry and discovering writers I had missed like Claudia Roden and Simon Hopkinson and Lindsay Bareham among many others. I also had so much to learn from wonderful writers of food from other cultures that knew little about, I just didn't know it then.
I am now firmly back in the 21st Century with access to so much more information and knowledge and I am the first to recognise what the internet has given us. Anyone that has typed a memo about a meeting and printed it out and copied it and sent it in internal envelopes and then manually filed it will never willingly go back to a world without email.
However, the speed of food fads these days seems to be overwhelming and I enjoyed my dip back into a time when such speedy adoption wasn't possible and we throughly got to enjoy focaccia, ciabatta, bruschetta and crostini for long enough to make them stick as a normal part of our diet (I know the Italians have had them for forever but this about the UK).  I'm going to spend some time with my older cookbooks so I don't forget this and not just because it justifies keeping hold of them.
Also it means that I can avoid some of the more unpleasant aspects of the internet, namely the side of people that forget when they are typing comments on a screen there is a person behind the screen who can be hurt.  I know some people positively enjoy the unpleasantness and there is probably nothing to be done with such unhappy people but the ones who just forget their manners can maybe be brought back into the gentler, kinder waters of the internet with a reminder. 
There are some people who are nice which is fine but doesn't actually require any positive action, just the right words. There are some people who are kind, who actually go out of their way to make days better for people but don't always use the right words. The two are not the same and you can be nice, without being kind as well as kind without being nice. If I had to choose, I'd take kind any day of the week. It made me remember a folk tale from the Highlands of Scotland collected by Sorche Nic Leodhas in Heather & Broom.
I have shared my adapted version of the tale The Daughter of The King of the Seals below:
Many a strange tale is told of the isles of the Scottish seas, but surely none so strange as that of the daughter of the great King of the Seals.
How many of the isles there are would be hard to say, for the counting of them would be an endless task. Some of them are great islands, with harbours and towns and people upon them, but many of them have mostly rock and nowhere to support a crop, and on some of these no man ever sets his foot, for what would be the use of it?
Upon these small, deserted isles the seal delights to dwell, for the rocks are wonderful places for him to be sunning himself, and in the pools and the little bays around them are the fish he likes best. There, too, the rocks slant down into the water, and the young seals play, slipping down the smooth grey rocks and into the cool green water with never a splash.
Now some of the seals are not like other seals, for they can change their shapes if they will, and become men and women for as long as it pleases them. Fishermen tell tales of going out into the misty dawn and seeing a great man walking upon the rocks, or of coming in with their catch after sundown with night drawing in and hearing the voice of a woman singing a strange, wild, sweet song across the waters. But never a fisherman has come close enough to get a good look at whoever was there, for the hurling waves and the cruel rocks just under the surface of the water about the islands made a wall to guard them.
It is from these strange ones that the seals choose their kings. Now there was once a great King of the Seals who had many sons but only one daughter and she the youngest of the family, and when this tale begins she was a young woman, with her childhood had not long left behind her.
The name of the king was Ailean Mor, which means Great Rock, and a great rock he was, to be sure, both in size and in strength. His daughter's name was Fionna, the Fair One. She was the apple of his eye and he kept her under that eye as best he could. But to be the King of the Seals is not an easy path, because the clans of the seals are many and spread over many seas, and each with its own chief, ruling in his own way. Often enough King Ailean had to be off and away, here and there, settling differences about fishing rights and similar arguments. As he could not take his daughter with him, she stayed happily at home.
Now across the sea to the east of the isles where the seal people had their homes was one much less ill-favoured by nature. It was, perhaps, half a day's journey away by sail with a fair wind blowing. One of the larger of the islands, it had upon it not only two towns and many scattered farms, but a castle, and in that castle lived the young Lord of the Isles.
He, like the King of the Seals, was big and powerful in build, and handsome as a picture. He had the look to him of a man who would brook no interference with his ideas or plans. Every lass who ever knew him would shiver with delight at the proud way of him, and sigh at the beauty of him, but never was one of those lassies in his mind, for in all his young years he had never yet seen the maid he felt he'd like to wed. So he held his head high and passed the lot of them by without more than half-seeing them. Still, it troubled him a bit, for he knew he'd reached the age when he should marry for the sake of his family. He'd almost made up his mind to drop all the names of the lasses he least minded marrying into a lobster pot and pick one out, and then get on with the wedding willy-nilly.
With that on his mind he went down to the quay, and got into his boat and set out for a sail. What with thinking over all the lasses he knew, and separating the possibles from the impossibles, maybe he wasn't paying too much attention to the way he was going. At any rate, what brought him up short was a voice calling almost in his ear, and sitting up there on the rock above him, and looking down at him, was a tiny bit of a lassie.
"Man!" said she, "if you do not turn your boat she will break on the rocks."
The heart of the young Lord of the Isles turned three times upside-down in his chest, while he was turning his boat at once away from the rocks. The boat he turned, but his head he didn't turn the same way, for he never took his eyes from her face.
"Bide there till I come!" he called to her, and then he put his eyes to the sea to find a place where he could come in to the isle. Three times around it he sailed, and the third time he saw a narrow stretch of clear water where he might hope no sharp rocks lay in wait for the boat  and win or lose in he went and brought the boat up safe on a narrow spit of sand. He leaped from his boat, and up the rocks he climbed, and there at the top was the lass.
"Who are you?" he demanded, "and how did you come here?"
"I am the daughter of the King of the Seals," said she, "and I live here."
He didn't know whether to believe her! It might be true or she might be daft, but what he said next he had to say.
"Will you marry me?" said he.
"That I cannot say," said she, "till my father comes back and tells me."
"And when will he come back then?" asked the young Lord of the Isles.
"Who can say?" she answered. "Perhaps tomorrow. Perhaps even today. But I think it will more likely be a week away."
"I'll be back in a week at this same hour and ask him myself," said the young Lord of the Isles. And he turned and went back down to his boat, and sailed home to his own isle and to his great grey castle.
A week to the hour and he was back again, and she was there on the rock waiting for him.
"Has your father returned?" he asked her.
"Not yet," said she, but her eyes were on the sea. She lifted her arm and pointed. "He is coming now," she said.
All he saw was a silver streak far out on the western sea. Nearer and nearer it came, and then the young lord saw for a minute the shining shape of a great sleek seal. It flashed close by, and disappeared behind the rocky cliff of the isle.
"Then up from the rocks came the King of the Seals, by inches broader and by inches taller than the young lord himself. A giant of a man was King Ailean Mor, with a frown like a thundercloud on his brow and a flash of anger like lightning in his eyes and thunder itself from his mouth.
"And who are you, who dares to trespass upon the lands of the Seals!" he roared. A fearsome sight he was to see, in his wrath.
But the young lord came from a race that bred no cowards. He stood his ground and he faced the seal-man and he answered firm and clear. "The Lord of the Isles am I!" said he, "and I have come to ask your leave to wed your daughter."
The King of the Seals was struck to silence, and for a while he stood frowning at the Lord of the Isles. Then the thunder cleared from his brow and the lightning from his eyes, and he turned to his daughter. "My beloved child," he said tenderly, "what have you to say to that?"
The lass said nothing at all, but her eyes begged for what she would not put into words.
The King of the Seals sighed a great deep sigh, and then he said sadly, "What there is to be said has already been said, for I see you are both of the same mind." The three stood facing each other, and there was no sound at all but the wind blowing in the dry grass, the waves clawing at the rocks and the gulls shrieking high overhead.
Then the Seal King said at last, "Come back in a month, Man, if you are of the same mind then. And if you come back bring with you such garments as the women amongst you wear, for my daughter may take nothing with her when she leaves the Kingdom of the Seals."
"With nothing I will take her," said the young Lord of the Isles proudly. "She needs no other dower than herself when she becomes my bride!" Then the young lord took Fionna by the hand and looked deep into her eyes. "I will return," said he.
When the month had passed the Lord of the Isles came back as he had promised. He brought with him undergarments of fine linen and lace, as soft and white as the froth that tipped the sea waves. He brought a gown of rarest silk woven to his own order, that shimmered with green and blue and gold, like the sea with the sun upon it. He brought a golden coronet, jeweled with sea pearls, to set upon Fionna's soft golden brown hair, which she wore cut short upon her neck in the fashion of the seal-women. When she had dressed herself in the garments she was the loveliest thing to see that had ever met the Lord of the Isles' eyes. Only she went barefooted, for the young lord had forgotten to bring her any shoes to wear.
When she was ready the Seal King said heavily, "Guard her well, Man, for you have taken the brightest jewel in the crown of the King of the Seals." Then he took the young lord's hand in his left hand and his daughter's hand in his right. To his daughter he spoke and he said to her, "This you must promise! If ever an unkind word should pass the lips of your husband when he speaks to you, you must return to the Kingdom of the Seals!"
"I do so promise!" said she.
"This must you, too, promise! If ever an unkind word should pass your lips and you should speak to her in anger she must leave you without hindrance and return to the Kingdom of the Seas"
The Lord of the Isles laughed loud and the Lord of the Isles laughed long, in scorn at the thought that there would ever be unkindness between himself and Fionna.
"I do so promise!" he said readily."
"And this, too," said the King of the Seals with great gravity. "With nothing she goes from me. Returning, she can bring nothing with her."
"Yes!" said they. Then the King of the Seals joined their hands together, and he turned and went down over the rocks away from them.
They went down to the young lord's boat and got in, and sailed away to the island where his castle was. But the Seal King did not see them leave, for there was no more to be seen of him by then but a silver streak on the far-off sea, going always to the northward. The young lord and his bride came in to his island, and there at the quay was a great shining coach with four white horses waiting to carry them up to the castle. All the people of town and countryside were lined along the way to welcome them home.
And because she was young and very beautiful they loved her at first sight. They wondered where the young lord had found her, but when they saw her feet without shoes they thought she was a country lass that the Lord of the Isles had found in his travels on the mainland. So they called her "the barefoot bride," but they thought no less of her because of that. When they got to know her better their love knew no bounds, for she was ever kind and gentle in all her ways with them.
So a year and a year and one more year went by, and the young lord and his wife were happy in their castle by the sea. At the end of the third year a baby lay in the cradle, and the young lord had his son and heir. It seemed then that no cloud could ever dim their happiness.
But a young wife is tied by the heartstrings to her child and cannot always rise and leave at her lord's bidding. It often happened that the Lord of the Isles would wish to go here and there, but the young wife would say that she must stay at home. Proud as he was of his son this did not always suit the young lord's fancy, for in the first years where he wished to go, there she went too, and many a high time they had together where all was new and wonderful to her and he the lad to show it all to her.
Now, too often, when he asked her to come with him, she would shake her head and say that the child needed her. "Have patience," she would say with a smile. "Soon he will be older and I will come with you then."
Then the Lord of the Isles would go off alone, and that did not please him at all. But although he did not complain to Fionna, patience was something he did not have at all, so it happened that soon he was away from the castle more than he was in it.
It was one of these times that the Lord of the Isles came back, and found his wife sitting at the window looking out over the sea. He had left her overlong, this time, for he had gone so far as the mainland with a party of friends and they had been delayed there over the night. He thought she looked lonely, and his conscience hurt him that he had left her so long, and he was angry with himself for his carelessness toward her. But he was much too proud to say so and he shut it in.
The baby lying in his cradle was roaring away in grand style, and his mother paying no attention to it, knowing, as mothers often do, that there are times when nothing is wrong, but babies must cry in order to grow.
But the noise of the babe gave the Lord of the Isles a handle for his wrath, to turn it against somebody else, since pride would not let him turn it to himself. "In the name of heaven, Fionna," he cried angrily, "is there not some way you can keep the wee lad quiet!"
She turned herself upon the window seat and slowly she rose to her feet, with her great dark eyes fixed sadly upon his face.
"Oh my lord, my lord," she said reproachfully. She went to the cradle where the babe now lay quiet, having finished his crying for the time. She picked up the child and kissed him, once on each cheek and once on his brow and once on his small rosy mouth, and laid him back gently in his cradle again. Then she went out of the room.
The Lord of the Isles sat down in the window seat, and waited for his love to come back again. He waited long, and the baby slept, but still she did not return. So he went in search of her, through every room in the castle. From room to room he hunted, but she was in none of them. The cook and the scullery maids had seen no hair of her, and the gardener had not seen her since the morn. Her horse stood idle in its stall in the stables, and the grooms had not seen her all the day.
So he sat down on a stone bench by the gate lodge to wait again, thinking she'd gone to the village and thinking, too, that it was strange she had not told him she was going, as she always had before.
And then he remembered the promise they had made to the King of the Seals
Down to the sea he ran, with his heart racing faster than his feet. But he was too late.There on the rocks lay her clothes, piled in a tidy heap, and far out on the sea a silver streak moved swiftly away from him.
And so Fionna of the Isles became a sea-woman once again and returned to the Kingdom of the seal people, according to the promise she had made to her father. For the Lord of the Isles had spoken to her in anger, and there was nothing else that she could do. And as she had brought nothing with her, so too, by the terms of her promise, she took nothing back with her. For she left her babe in his cradle, her lord in his castle, and her clothes upon on the rocky shore.
The Lord of the Isles went back into his castle, and shut himself up in his room. For a long week he had no word with anyone, and if he ate a bite or drank a sup no one knew of it. But when, on the seventh day, he came out, it was as if he were a different man. He, who had been wayward and proud, was gentle and humble. He, who had ruled with arrogance, was just and kind. No one in all the years to come ever heard an unkind word from him. But never did he allow Fionna's name to be mentioned to him, though all who knew her grieved that she was gone and would have sorrowed with him had he allowed it.
So it went until his child and Fionna's had grown to be a man. On the day the lad reached his twenty-first year there was a great celebration because of it, and people came from the mainland and from all the towns of the islands. Before the banquet was over, while all were gathered together, the lord handed the keys to the castle and a deed to all he possessed to his son. The lad would have refused the gift, but his father pressed it on him, so the son laid the papers and keys aside and thought to take the matter up with his father upon the next day.
But while all were feasting, the Lord of the Isles rose from the table and went down to the quay, and getting into his boat set sail to the westward. And he never came back again.
Where did he go? Well, there are many stories about that. Some said that he sailed far out on the great western ocean and was lost there in the high green waves. Some said that he sailed until he reached Tir-nan-Og, the Isles of the Blessed, to live forever there in happiness.
But the fishermen, who tell the tale, say that he simply sailed to the island of the King of the Seals, taking nothing with him but himself, for his boat with all his clothes in it was found days later halfway between the quay of his own island and the mainland, right side up and with no harm done to it.
And the fishermen say that he stayed at the castle to do his duty by his son until he became a man and could go on by himself, for his father could not take him with him, any more than Fionna could when she returned to her father. And they say that the King of the Seals took him in, for the sake of the love he and Fionna still had for each other, and gave him the power of the Seal People to change himself from man to seal at will.
In proof of this the fishermen say that where they once saw one great man in the mists of the dawning day on the rocks of the seals, they now see two, and with them often, a woman who sits and sings more wildly and sweetly than ever before.
So the end of the tale is a happy one, with Fionna and the Lord of the Isles together in the Kingdom of the Seals, after all the long unhappy years. Their son lived on in the great grey castle, and became the new Lord of the Isles in his father's stead. A good one he was, too, for he followed the rule of his father, whose motto was "be kind."
I absolutely love Selkie stories and some of my favourites are told by Amy Douglas that she heard from Duncan Williamson, a storyteller and tradition bearer of the Scottish Traveller community.  I hadn't heard this one before though and I couldn't resist it.
Selkie is the Orkney word for seal and is now usually used to mean a member of the shapeshifting race of seal people. They are common in Scottish folklore and tend to travel wherever the Scots are to be found on the globe but seal-people also appear in the folklore of Ireland and the Nordic countries. Selkies, although not mentioned in this tale, usually have to have their seal skin with them in order to change.
This is quite often abused by mortals who steal and hide the skin to get the Selkie woman to stay (it is usually a woman).  Often she stays long enough to have children who often innocently reveal the secret of where the skin is hidden so she can leave. Often returning to sing to her children from the sea.  Selkie men on the other hand are more likely to be seducers, especially of women who are unhappy in their marriage.  It was said that if a woman cried seven tears into the sea at high tide, a selkie would appear, shed his sealskin and comfort her. Isn't comfort a lovely word you can stretch a long way with a lot of meaning?
Selkies have inspired much art and many stories and I will leave you to google them to your heart's content but beware you may have to drag yourself away from these glorious yet haunting creatures.
There is just a little time left for me to share my vintage remedy and recipe before I let you get on.
If you have aches with swelling, I would suggest you get appropriate medical advice but in 1588 this was the cutting edge treatment as found in The Widows Treasure, a book of remedies with random recipes and cookery thrown in. All I can say about this is that at least it might smell nice whist it was being prepared.
I couldn't resist this recipe, the name is strangely appropriate. I'm a big fan of a gooseberry fool normally and this doesn't sound quite as delicious, however rosewater and mace are lovely flavours. There are 32 recipes for cream dishes in this book, most of which are much closer to what we would now call a fool with cream & fruit, plus two for fools. The second one is for a Norfolk fool which also has spices & even more bread involved and still no fruit. The use of a bread layer or layers in the case of the Norfolk fool make it seem more like an early trifle, especially as the addition of eggs & heating makes this more of a custard than a cream
So as I must read many fascinating articles before I write to you again, I must bring this letter to a close. Please don't hesitate to get in touch via the comments or via any of my social media profiles/my website . If you have enjoyed this and would like to read further such nonsense and have not yet subscribed, please don't hesitate to subscribe for free at the button below. You'd be very welcome and it would be a joy to write to you.