Discover more from Folklore, Food and Fairytales
Snippets of folklore, history, stories, vintage recipes, remedies, herblore & the occasional cocktail
From Potion Ingredients in Disguise to Spirits of Spice
Via Shakespeare, A Midsummer Night's Dream, Dumb Cake, Farthing Loaf Day, Midsummer, Summer Solstice Foods & Recipes and A Remedy for Sore Eyes
Hello Dearest Reader
It's so lovely to be back with you after my short break. I feel recharged with new thoughts and ideas that my brain will hopefully process into nonsense that you will all enjoy. Brains aren't always trustworthy but I've been feeding mine a considerable amount of anchovies as I can always convince myself that its not worth trying to save the extras left in a tin, after I've already added slightly more than the recipe requests. So I eat them, because I'm trying desperately not to waste food, although I must admit that there is only so much salad leaf pesto I am prepared to eat. Bags of salad leaves were definitely invented by a malevolent entity (I'll let you pick your preferred one) and I think in the future I might have to eat all the greens in them in one sitting or not buy them at all.
Anyway, back to anchovies, hopefully they are doing the work of sacrificial oily fish and keeping my brain running smoothly. At least you know where you are with anchovies, they are essentially what they say on the tin. This is not the case with herbs as I have recently discovered via Shakespeare. Some of them have sneaky names which mean other things particularly when used in old remedies (even older remedies than the ones I share with you).
I think I will share my newfound knowledge with you and you will then not be caught unawares as I was.
This verse is probably familiar to many of you from Macbeth:
"Fillet of a fenny snake, In the cauldron boil and bake; Eye of newt and toe of frog, Wool of bat and tongue of dog, Adder's fork and blind-worm's sting, Lizard's leg and owlet's wing, For a charm of powerful trouble, Like a hell-broth boil and bubble."
This is not all that it seems, and was frankly enough to put anyone off witchcraft if they were even the slightest bit squeamish. However I have good news for those of you that prefer your potions a little more herbal based, not all of these are as disgusting as they sound. Fillet of a fenny snake could possibly be yarrow which grew in fenland and boggy places. Eye of Newt was simply mustard seed, toe of frog, the much more nicely named buttercup; wool of bat is holly leaves, tongue of dog or hound's tongue is another name for the Gypsy flower, adders fork is a herb known as Least Adder's tongue. I have only concentrated on this verse of the potion but the other verses have similar herbal options for the more unappealing sounding ingredients however many of these are still highly poisonous particularly wolfsbane, hemlock and Yew.
So as always, it's best not to create potions if you don't know what you are creating. Maybe we should leave this safely where it arose, inside Shakespeare's mind. We'll never know the truth of this theory, but it's interesting to play around with.
Shakespeare used a lot of plants and herbs in his plays often with lots of different layers of meaning. Macbeth actually contains a very low level of plant references outside of these unusual herbal names: Balm, chestnut, corn, hemlock, insane root, lily, primrose, rhubarb, senna, yew. I've selected some of my favourite culinary herbs with quotes from various plays, mostly because I could and I feel something should come from my very long trawl of The Plant-lore & Garden-craft of Shakespeare by Henry Nicholson Ellacombe published in 1884:
'Tis thought the King is dead; we will not stay. The Bay-trees in our country are all wither'd.' Richard II, act ii, sc. 4 - Mr Ellacombe was quite scathing about this saying that Shakespeare was commenting on an Italian superstition here which was irrelevant to England. He also contradicts himself saying it wasn't long imported from Southern Europe during Shakespeare's lifetime and then says in the next sentence that it was known long since as it was known as Beay-beam, or the Coronet tree in Anglo-Saxon vocabularies.
'Though the Camomile, the more it is trodden on the faster it grows, yet youth, the more it is wasted the sooner it wears' 1st Henry IV, act ii, sc. 4 - Camomile was apparently a big favourite in Elizabethan formal gardens because, as as well as being a handy hardy plant for edges of walks etc, when it was walked on a gentle pleasant scent was released. It was also used in medicine and cleansing products. We only really see it herbal teas, aromatherapy oils and soaps now, apart from the incredibly popular book The Chamomile Lawn, which I absolutely loved as a teenager but haven't read since. I have now added a chamomile lawn to my fantasy house, which I will one day move out of my head and onto paper, possibly with drawings. I should probably move on.
'Nay, you shall see my orchard, where, in an arbour we will eat a last year's Pippin of my own grafting, with a dish of Caraways and so forth.' 2nd Henry IV, act v, sc. 3 - I love caraway as I've mentioned before. In Shakespeare's time they were much more popular than they are now and as well as being in many breads and cakes were served in a served in little dishes alongside fruit and cheese, apples in particular.
'There's Rosemary, that's for remembrance; pray, love, remember.' Hamlet, act iv, sc. 5- Rosemary was an incredibly popular herb in the time of Shakespeare and whilst its use had diminished considerably, it has now became a popular herb to roast with vegetables, potatoes in particular. It was popular not just for its fragrance but the fact that it was evergreen and both the greenness and the scent lasted, to the extent that these were considered everlasting.
"I know a bank where the wild thyme blows, where oxlips and the nodding violet grows, quite over-canopied with luscious woodbine, with sweet musk-roses and with eglantine." - A Midsummer Night's Dream, act 2, sc1. Did you know that thyme has never really had a common English name? It is the anglicised version of the Roman/Greek 'thymum' which meant to burn a sacrifice. Which is odd because this pungent herb often feels very English, its even one of the four herbs in the old English folk song Scarborough Fair (which if I'm completely honest with you my loves, I wasn't entirely convinced wasn't written by Simon and Garfunkel).
This is probably enough Shakespeare herb quotes for everyone for a bit, I'm not sure how Reverend Ellacombe managed to finish if I'm entirely honest. It must be why he cheekily switched to writing about garden craft in the second part of the book. It does however mean that I finish on A Midsummer Night's Dream which is timely for this letter as it has reminded me to share a couple of Midsummer food traditions. Also it is my second favourite Shakespeare play and I have an excuse to watch the latest National Theatre version of it via National Theatre at Home for the umpteenth time. I love this version, done in the round with some very non traditional changes to who says the lines.
It is so exciting and vibrant and I wish everyone could watch it. Its £10 a month for a subscription but if you can spare that you can watch all the plays that appeal to you in the month and fully get your money's worth. I will be doing it again this month especially as they have a newish version of Much Ado about Nothing I haven't yet seen and that is my actual favourite Shakespeare play. You can watch the official clips and trailer on Youtube of A Midsummer Night's Dream just to whet your appetite, search for Bridge Theatre and the title.
A lot of what I love about A Midsummer Night's Dream is that the location of much of what goes in is in a wood, enabling us to feel the magic of the wild spaces and allowing our imaginations to soar amongst the trees. I will tell you something incredibly silly but the end of my journey to work takes me just into Warwickshire and through a patch of very mature woodland and at this time of year when its winding paths are inpenetrable through the leaves I can easily convince myself that this is part of what little is left of the Forest of Arden, one of the once great forests of England and the woods that Shakespeare would have pictured when he wrote the scenes of this play. If I can imagine all of that on a National Express West Midlands bus, what thoughts do you think I'm capable of when I'm actually in touch with a piece of truly awe-inspiring nature?
Before I start planning a visit somewhere awe inspiring and get distracted, I should share the promised Midsummer Food Folklore. The first is a bit more well known and is one of various love divisions that can be done on St John's Eve or the night before Midsummer. This is known as Dumb Cake and it was one way to see who you were going to marry or even if you were going to marry at all. I know in these days marriage is very different and its a very valid choice to avoid it completely but it was literally a way of life not so very long ago, so you can see why there were so many types of love divination.
This requires the unmarried young women to make it in complete silence but there are several variations after that. In one, the dough is rolled by all participating and then initials are marked in the dough before it was put before the fire to bake. Then they sat in a semi circle as far from the fire as possible and in the last hour before midnight, each of those taking part had to turn the cake once. Then in a very dramatic fashion at the last stroke of midnight, the future husband to be of the first woman to be married would stride into the room and point to the part of the loaf with her initials. How he would know and why he might be wandering around at midnight is not mentioned.
In Yorkshire there was even a poem of sorts to remember it: "Two to make it, two to bake it, two to break it." All was also done in silence and a third girl put a piece of the resulting cake under the pillows of the two girls who baked it. When they dreamed, their husband would appear to face them. If you didn't fancy the silence and baking effort, there was an alternative, you would fast after midday and until midnight on Midsummer Eve and at midnight lay a clean cloth and place upon it good bread, good cheese and the best ale and sit down as if going to eat, with the street door left open.
At which point, the person who you would marry would come into the room and toast you by bowing and after filling the glass, place it on the table and then bow and leave the house. Presumably because you had been fasting you would then tuck in to the good bread, ale and cheese with an excellent appetite and start planning the wedding. If a suitor did not show up, at least you would at least have a small feast to enjoy. I will point out again that no-one seems to question the fact that all these men are just wandering around at midnight barging into houses to which they haven't been invited.
There is another variation on this involving a lot of faffing around with rosewater, sprigs of rosemary, inside out shifts, salt and chairs and a visiting spirit that looks like your husband to be which frankly would take too long to explain even if I had the inclination, which I don't. All I'll say on the subject is that it feels like a very weird version of musical chairs, which I disliked even as a child, and I have better uses for rosewater and rosemary.
I will share instead something less mystical and more firmly down to earth which is only to be expected for something that takes place in Kidderminster, Worcestershire. Midsummer Eve was known there as Farthing Loaf Day because a farthing loaf was given to every person born in Church Street, Kidderminster should they choose to claim it. Apparently it all stemmed from two different bequests. One bequest from John Brecknell in 1776 allowed for every child or unmarried person born in or inhabitant of Church Street to receive a twopenny plum cake on Midsummer Eve and in addition pipes and tobacco and ale to be given to any male inhabitant who assembled. The legacy also allowed for £2 two guineas to be paid to a household in the street in payment for providing a supper of bread, cheese and ale for every household in the street. All householders were to take turns in hosting.
At the supper a toast should be drunk as directed by the bequest was "Peace and good neighbourhood" There was also a bequest from a "maiden lady", no name given because she's a woman obviously, which paid for farthing breads/cakes to be given to all the children either born or living in Church Street. No-one seems to know if her bequest came before or after John Brecknell but from the little information available we can take an educated guess that she came first, in around 1611 and when the money she left in her will ran out, Mr Brecknell stepped in with his bequest on his death. This was still celebrated as recently as 2019 although the street is no longer residential, the businesses in the street continue the tradition and still host the supper of Peace and Good Neighbourliness. The John Brecknell Charity still exists.
I have one word of warning, if you wish to witness Farthing Loaf Day or to take part in love divination you will need to check your dates. In England & Wales Midsummer is traditionally one of the four Quarter Days of the year along with Lady Day, Michaelmas and Christmas Day and took place on 24 June. The Quarter Days were traditionally the days that workers were hired and rents were paid. In addition all debts and lawsuits had to be settled and a public record made by the quarter day.  This meant arguments and disputes – in theory at least – were not allowed to linger on. These days date back to at least the medieval period.
However, if you wish to have an earlier celebration or even two celebrations there is the summer solstice on 21 June, I'm sure such knowing folk as I'm sure you all are, know all about the rituals taking place at dawn at Stonehenge and Avebury or are even just planning a fire in your fire pit in the back garden (with all fire safety precautions in place, its been very dry). This solstice is all about celebrating the longest day and the sun.
You can do that any way that pleases you but one food idea is the making of preserves, and chutneys and jams on this day because it is said that it bottles the sunshine and then releases it later on a cold, grey winter's day. Alternatively, if you don't fancy being around a lot of hot fruit on a hot day you could consider eating some foods that celebrate the solstice such as red and orange fruits which represent the fiery nature of the sun, green herbs to banish negativity and attract prosperity, delicious cheese (particularly round ones) for joy and health. You could add some fish for heightened psychic awareness and attract just a smidge of love. If you want just a soupçon of passion then add some spices or chilli and maybe add a touch of honey in the form of mead to attract money, love and blessings to your house.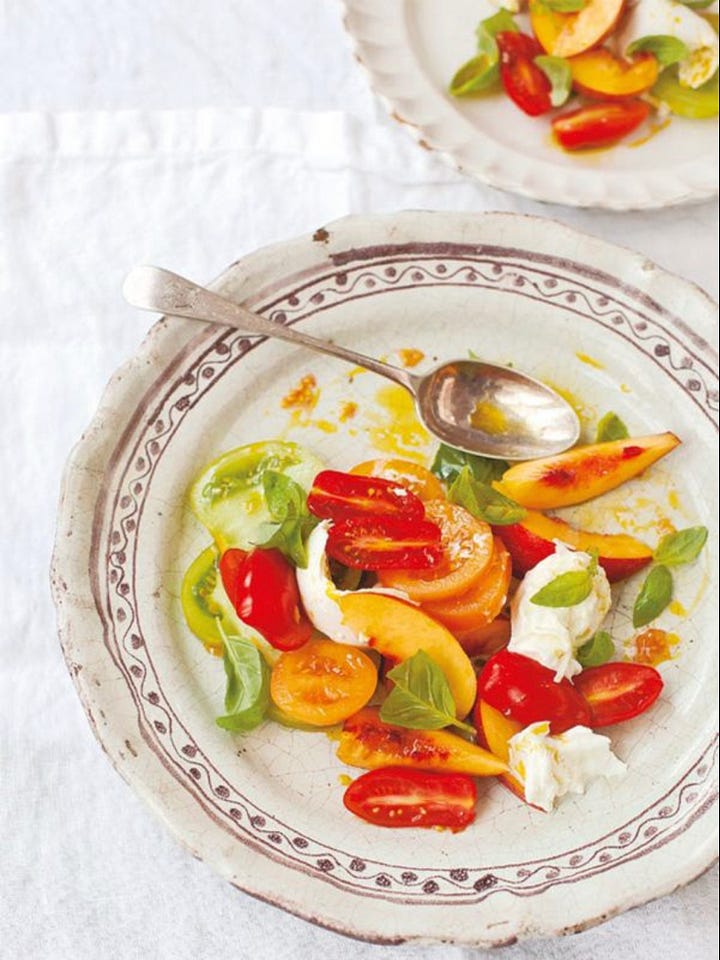 Mead is available nearly everywhere now or any citrus juice would be good for this celebration. Hopefully these pictures might inspire you food wise and I can recommend Diana Henry's Nectarine & Tomato Salad, my Peach, Serrano ham, Mozzarella and Cannellini Bean salad, (which is essentially Nigel Slater's White beans, prosciutto and figs, with figs swapped for peaches and a bunch of mint and a ball of mozzarella added), Nigella's Jumbo Chilli Sauce, Ravneet Gill's Rasmalai Cake or these amazing Cardamon & Pistachio Cheesecake bars which I could eat on any day frankly.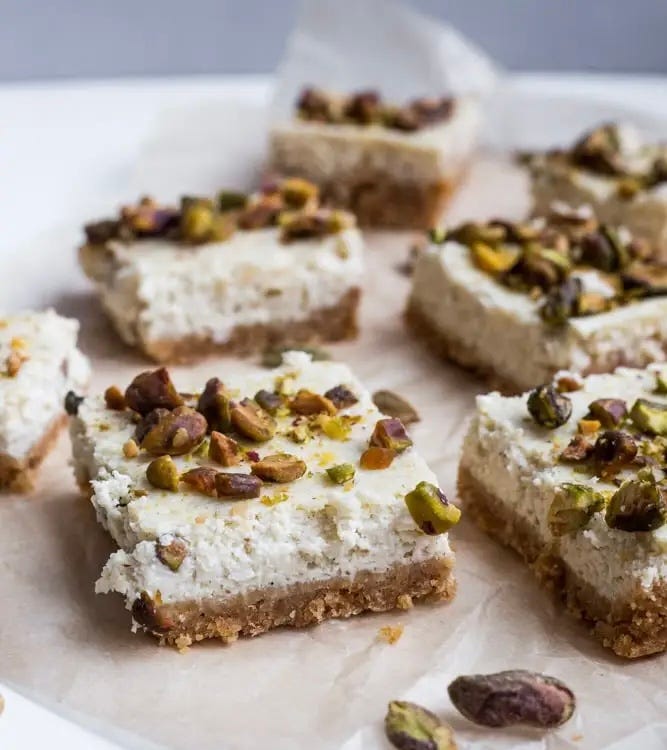 Finally we have our vintage remedy and recipe for those of you that enjoy that kind of thing:
As always, please don't take medical advice from a book printed in 1690. I must admit I partly chose it because of the hounds-tongue (it can never be said that I can't keep up a theme for a whole letter) but it doesn't sound super effective from our modern perspective. This is from the beautifully titled 'Accomplished Ladies Rich Closet of Rarities' by John Shirley.
I love this recipe from the even more beautifully titled 'Delightes for Ladies to adorn their persons, closets and distillatories' written by Sir Hugh Plat. This edition was printed in 1603. It has some fabulous mixed drinks which do indeed sound delightful but I loved the thought of this for the solstice at Midsummer - the very essence of spices in ethereal form.
I'm afraid there is no story today but for those of you who are that way inclined, may I suggest my latest podcast episode featuring a spellbinding tale from the fantastic Owen Staton and you can listen to our chat in which we talk Welsh delicacies and barely touch the depths of how both food and stories can break down barriers & nourish our souls. You can also hear Catherine Ward about her new book - A Yorkshire Year - A Year of Folklore, Customs and Traditions. It's also everywhere you can find podcasts.
So with that in mind, I must bring this letter to a close. Please don't hesitate to get in touch via the comments or via any of my social media profiles/my website . If you have enjoyed this and would like to read further such nonsense and have not yet subscribed, please don't hesitate to subscribe for free at the button below. You'd be very welcome and it would be a joy to write to you.